Throughout the COVID-19  pandemic, getting people the supplies they need has not been an easy feat. In south-central Montana, the Crow reservation is isolated from larger cities making it more difficult to acquire basic necessities.
Appointed to The Salvation Army Corps in Bozeman, Montana,  in February 2019, Captain Jennifer Larson began looking for ways to grow outreach services to help more people. Following the first months of the pandemic, Larson received the words she needed to continue in the fight for good in June 2020.
Bozeman nonprofit Hopa Mountain informed Larson of the call for supplies needed by tribal members on the Crow Reservation. From that point forward, Hopa Mountain connected Larson with Indigenous nonprofit, The Center Pole, and a partnership was formed.
Situated three hours from Bozeman, The Center Pole is located just three miles south of the Little Bighorn Battlefield National Monument on the Crow Reservation. Originally created as a youth development organization in 1999, The Center Pole has grown into a 501(c)(3) nonprofit that addresses key issues on the reservation to strengthen the Crow community and raise awareness around Indigenous issues.
Founded by Crow tribal member Peggy Wellknown Buffalo, the nonprofit's services include work in the area of food sovereignty and sustainability, an Indigenous media and education center, as well as a radio station to give the Crow people a platform to share their experiences with the rest of the world. The nonprofit also teaches and models entrepreneurship through their social enterprises (cafe, gift shop, resale shop and tourism stays) which serve to create sustainability for the other programs.

"In Crow culture, 'the center pole' gives strength, guidance and it's where you go for help," Wellknown Buffalo said. "It connects you to heaven, to 'a bada di a', the Creator." 
At first, The Center Pole focused on getting community members what they needed to survive. Food donations have been "the biggest help," because "that's what my people need," Wellknown Buffalo said.
While coronavirus infections remained higher among other reservations, Program Director and Co-founder Susan Kelly said, "We had 60 people die of COVID here, which is a pretty high percentage of the people."
Donations from The Salvation Army and other groups are received off-reservation and then brought back to the reservation, where The Center Pole has a small warehouse to store, organize and distribute goods back into the hands of community members. When extra supplies are available, items are shared with the Northern Cheyenne reservation.
Secondly, Wellknown Buffalo said she wanted The Center Pole to help in assisting students to higher education, like how another nonprofit helped her son attend college. He now works as an executive health director in Helena, Montana. 
"Just to be in our support system to encourage them that, you know, they're going to be OK and they can succeed," Wellknown Buffalo said. 
Larson said in August 2020, backpacks and school supplies were brought to the reservation for children preparing for the start of classes. "We often need school supplies, because people don't have the money to buy their kids school supplies when they start school," Kelly said.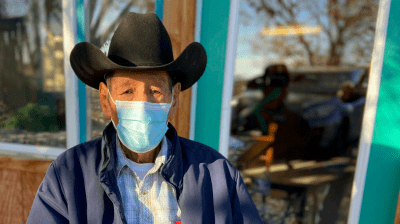 "We're bringing local resources to them as well. So, school supplies, Christmas [gifts] assistance, hygiene supplies… if they need help with rent or food vouchers, anything that we can do to get them to be connected to those services, which is also super important," Larson said.
Most recently, Larson said another $5,000 worth of hygiene and food supplies was sent to the reservation. "We estimate that we've helped about 575 people." 
"When you talk about what people need, then it sounds all depressing. Right?" Kelly said. "It's interesting here. It's a rich culture. It's another language. It's another whole approach to living, which I think mainstream America really needs."
---
Do Good:
You can make an impact in the Fight for Good with whatever time and skills you have. Whatever your interest, there is a

you-sized

need for goodness in the world.

Get the guide on How To Be An Impactful Volunteer

and get in the Fight for Good today.

What does it mean to do good? Where can we discover joy? What is it really like to be homeless? How can I raise a kind kid?

Subscribe to The Do Gooders Podcast

to find these episodes and much more—all to help you be inspired to do good right where you are. 

Learn more about

The Center Pole

and how they provide needed services to the Crow community.